Cabinet Refinishing in St. Albert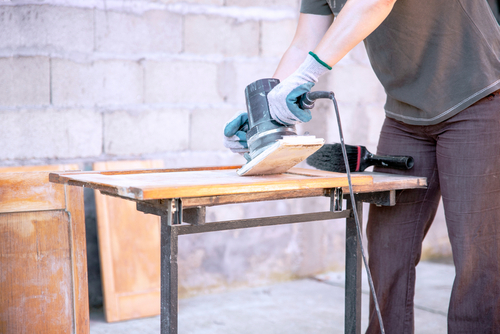 Are your kitchen cabinets looking a little worn out? They need a facelift if this is the case. And we are here to help you. In only a few days, our expert kitchen cabinet refinishing service will bring new life to your dingy, faded cabinets. Observe how we transform your kitchen to the point that not even you will recognize it after we're through.
Major kitchen renovations might leave your space useless for weeks. In addition, the project has the potential to swiftly spiral out of control financially. It may be time to refinish or reface rather than replace the whole piece.
However, we are well aware of your desire to update your antiquated kitchen and replace it with one of your dreams. We also recognize the need of adhering to a budget.
Fortunately, we have the answer for you: cabinet refinishing!
There are several advantages to refinishing your kitchen cabinets rather than replacing them. When the cabinet doors are in such fantastic condition, there is no need to replace or reface the whole cabinetry. Changing the color or refinishing the cabinet doors is all that is needed to bring them back to life. Properly applied, our industrial-strength, incredibly durable paint can keep your cabinets looking like new for years, saving you thousands of dollars.
It's not acceptable to settle for anything less than the finest when it comes to your kitchen. With us, you'll get a kitchen that's both beautiful and long-lasting, all at an affordable price.
In order to help you rediscover the potential of your kitchen, our experts will work their magic on it. Our specialty is cabinet door refinishing, and we do it using the best tools, equipment, and industry procedures. We stand by the quality of our work and the complete happiness of our customers.
So why don't you give us a chance to make your dreams come true?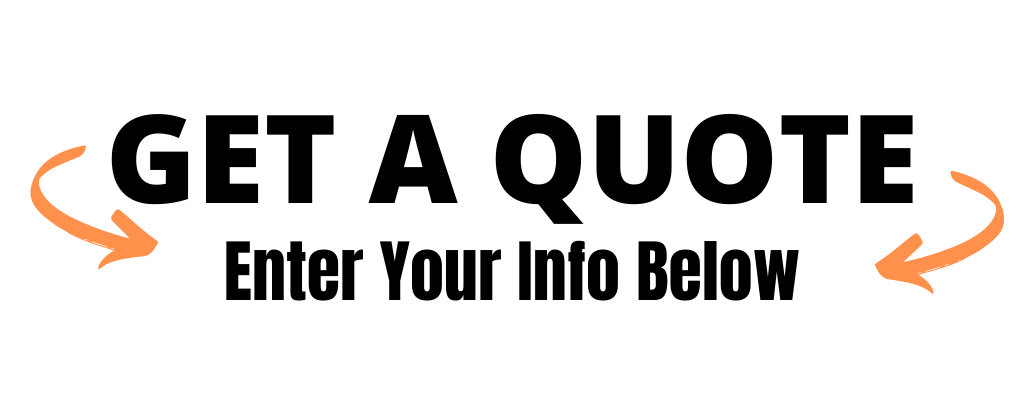 Cabinet Refacing in St. Albert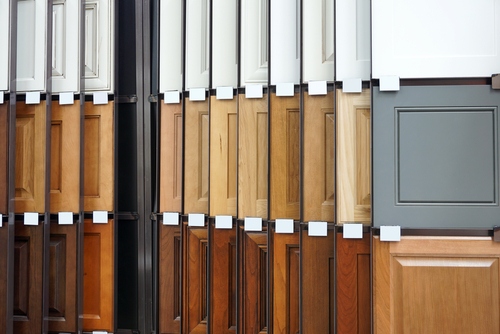 When it comes to home improvement projects, it's customary for homeowners to start with removing and replacing their kitchen cabinets. Projects of this kind may be very time-consuming and expensive. In the event that you decide to reface your kitchen cabinetry, our company's refacing service is the best option for both affordability and results. To discover more, please get in touch with us right now. Refreshing the cabinet's exterior is an option if you don't want to remove and replace the whole unit or reface it with new cabinet doors. The cabinet refacing method has been around for a long time. The cabinet boxes may be left in situ, and the doors can be removed and replaced entirely. This is a simple method to give your front door a stunning new appearance. Refacing your cabinets is the most cost-effective way to get a whole new appearance. You'll have more alternatives if you replace the doors instead of merely refinishing them. Nothing wrong with refinishing, however replacing is the next step higher and will cost more, but it's worth the investment.."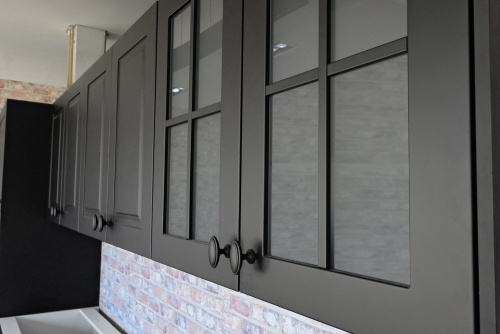 Partial remodeling is an option if you want a new look for your kitchen or bathroom but your present cabinets are still in great condition. If you don't want to invest the time and money on a complete kitchen remodel, consider using our Cabinet Door Replacement service. If you have any questions, please don't hesitate to get in touch!
With our Cabinet Door Replacement service, you can keep your existing cabinets while upgrading the outside with new, custom-made doors and drawer fronts. We provide a wide variety of door faces, edge profiles, and cabinet hardware from which you may choose to tailor your cabinets to your own tastes and preferences. To begin your road to a more modern, fresh, and practical kitchen, schedule a free, in-home estimate now.
St. Albert Kitchen Cabinets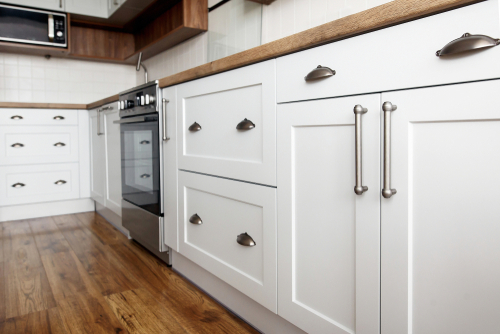 In order to assist our clients in creating the kitchen cabinets of their dreams, we use the services of skilled designers. When you work with an individual, you get one-on-one coaching and support throughout the whole process. With our help, we can answer any questions you may have about the process, and we can help you find trusted providers for anything from installation to delivery to countertops and appliances. Get in touch with one of our specialists or check out some of our sample kitchen cabinets if you'd like to learn more.
When you work with us, you can rest assured knowing that you're dealing with a trustworthy firm. Our 100% satisfaction guarantee covers every kitchen cabinet service we do. Our quality of work is unmatched, regardless of whether we are refinishing or refacing cabinets. You can get the best cabinetry services at the best prices! Please get in touch with us if you have any questions.
Paint Kitchen Cabinets in St. Albert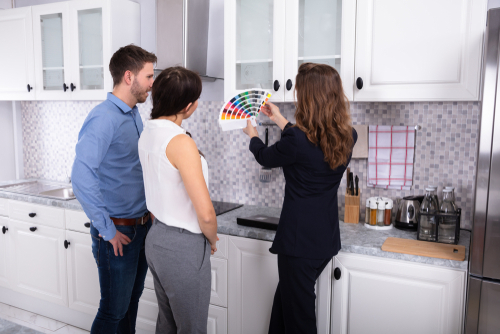 Do you long for a more modern kitchen? There is no need to replace your cabinets at this time since they are in such good condition. Is it ever on your mind whether or not there is anything you can do to assist them? This is the proper location if you responded yes to any of the following questions. Achieving your ambition at a fraction of the cost is possible with our guidance.
If you're going to be spending a lot of time in the kitchen, you'll want to make it a place you like.
If you'd want to make a lot of kitchen improvements, you may think it's too pricey. When it comes to remodeling a kitchen, painting cabinets is a more cost-effective option than replacing or refacing cabinets. Depending on the specifics, the treatment may be completed in as little as 10 days. In addition to giving your kitchen a new look, cabinet refinishing can brighten up the entire room. In many of our clients' kitchens, dark wood-painted cabinets have been replaced with off-white ones.
Contact us right now for a no-obligation estimate on cabinet painting!
Let us show you how much money you may save by painting your present kitchen cabinets instead of replacing them.
Frequently Asked Questions about Cabinet Painting in St. Albert AB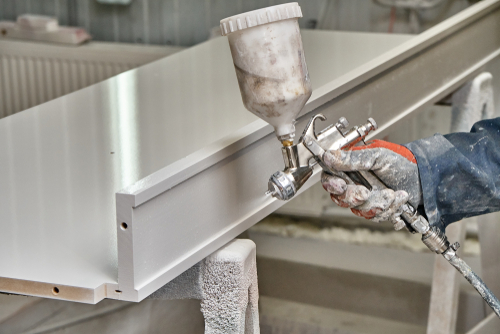 The addition of fresh paint and a few minor alterations can improve the appearance of your cabinets with a new coat of paint. A cabinet repair is one where the door or the cabinet's "face" is totally reworked Removeable pieces are often fitted together to allow contractors to set up a spray booth either on-site or off-site and have extra area for painting the trunk. The painting is finished, and the portion is placed back together. The amount of time it required depended on a variety of factors, including the size of the cabinets and the level of expertise of the contractor.
How much does cabinet painting cost in St. Albert Alberta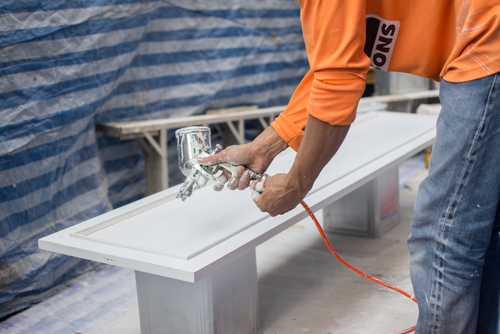 It's important to consider the number of painted cabinets and the cost of paint when estimating the cost of cabinet painting. Painting kitchen cabinets might cost anything from $3,000 to $7,000.
If your contractor charges you by the cabinet or drawer, you should expect to pay anything from $85 to $120 per cabinet or drawer, on average. On the other hand, most Canadian contractors will provide a discount for painting a big number of cabinets at once, so it makes sense to do it all at once.
Should you update your cabinets?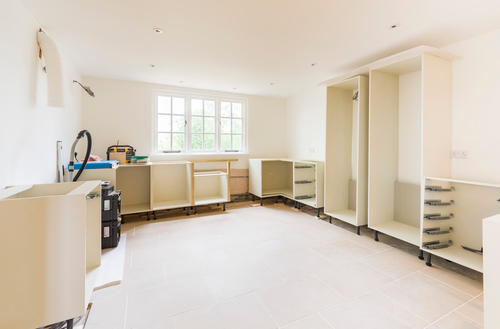 Cabinets will begin to darken and deteriorate with time since they've been used a lot. Appliances that were once considered modern might now seem to be relics of a bygone era. Choosing whether or not to relocate may be a difficult decision for some individuals. This approach may be preferable for those who don't want to spend time and money replacing or refurbishing their cabinetry. It's also a great way to improve the aesthetics of your kitchen.
The best cabinet painting in St. Alberta AB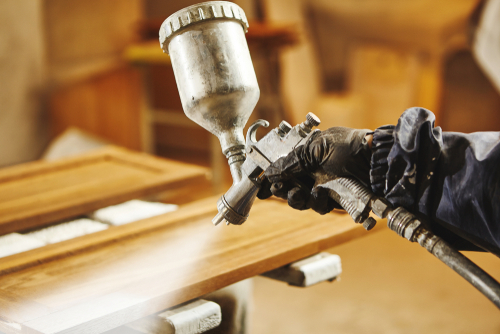 Our company's goal is to provide cabinet painting services that meet or surpass our customers' expectations on a consistent basis. Compared to other painting firms, you'll notice a big difference when you select us to paint your cabinets. Painting cabinets is a major decision, and we can help you make the correct one by delivering top-notch services. We make sure our clients are completely pleased before we leave the job, and any required adjustments are made. We hire a competent cabinet painting contractor to perform the task right the first time.
Cabinet Refinishing Service in St. Albert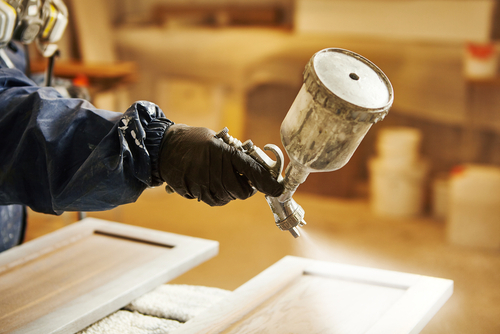 As the heart of any house, the kitchen has to be welcoming, warm, and inviting. If these terms don't appropriately describe your kitchen, you may want to consider redesigning it. Refinishing your kitchen cabinets is a great way to give your house a fresh new appearance and feel. What's your favorite part? Kitchen cabinet refinishing services are a fraction of the cost of a full-scale renovation. You don't have to break the bank to give your house the facelift you've always wanted.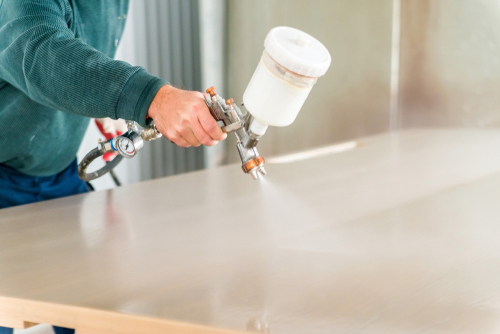 Painting your kitchen cabinets might save you hundreds of dollars in the long run. The cost of replacing your kitchen cabinetry is enormous. It might take a long time and be tedious to paint your kitchen cabinets. Making ensuring they are flawless is a difficult task to do on your own. If you want to raise the value of your home without spending a lot of money, consider painting your cabinets. They'll not only look great, but they'll also be free of dirt and oil.
Spray Paint in St. Albert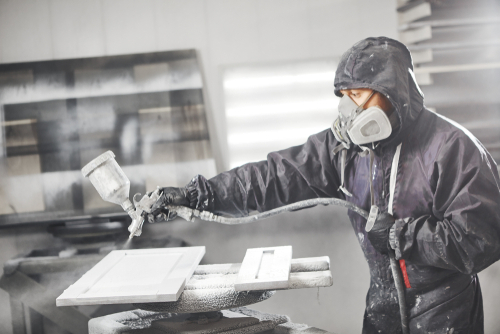 Keep in mind that if your kitchen cabinets are in need of a facelift but you can't afford to replace them, don't let that discourage you! Your kitchen cabinets may be transformed by spray painting them a new color.
Spray painting kitchen cabinets, according to many painting pros, is the best way to get extremely smooth and professional-looking cabinet surfaces. While using a paintbrush and roller is quicker and less messy, mastering this technique requires some time and experience. Cabinets with elevated panels or a large number of spots where a paintbrush or roller would be difficult to apply paint may also be painted with spray cans.
In order to spray paint your kitchen cabinets, it is highly advised that you invest in a specific sprayer. This will make it easy to do. If you use ordinary paint cans for this activity, your pointer finger will soon begin to hurt.
Frequently Asked Questions about Cabinet Refinishing in St. Albert Alberta
Refinishing kitchen cabinets: is it really worth it?
To save both time and money, you may refinish these strong cabinets instead of replacing them.
You may save up to $5,000 if you choose to refinish rather than replace your kitchen cabinets, according to Ballard. It's possible that refinishing won't work on cabinets made of materials other than wood.
What is the difference between cabinet refacing and refinishing?
Refacing your cabinets entails removing the inside doors and drawer fronts and replacing them with new ones, as previously mentioned. Refinishing cabinets only change the color or finish of the materials that are already in place, not the structure itself.
Refinishing your cabinets, especially if they're in excellent physical shape, may save you money while giving your kitchen a fresh appearance you'll love. Before using this approach, make sure your cabinets are free of dings, nicks, chips, breaks, and other imperfections.
Is it better to refinish or replace kitchen cabinets?
Refinishing is often the most cost-effective option if money is your major concern. Refinishing cabinets cost about two-thirds as much as refacing and installing new cabinets costs around 70 to 80 percent as much.
How much will it cost to reface my kitchen cabinets?
It costs about $80-$100 per linear foot for laminate materials just to have professional cabinet resurfacing work done on a 10'x12' kitchen. Between $80 and $100 per linear foot could be expected for wood veneer materials. Without installation, hardwood costs between $200 and $500 per linear foot.
Neighbourhoods of St. Albert
Things to do in St. Albert Alberta